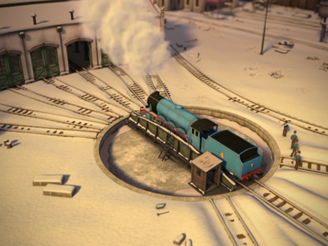 The Frozen Turntable
is the twentieth episode of the seventeenth season.
Plot
All the engines come back to Tidmouth Sheds one cold evening to find out that the turntable is frozen and will only point to one shed. Gordon wants the shed, but all the other engines agree that Percy should have the shed. That night, Gordon goes to the shed and sleeps in it, but after another incident with the turntable happens, Gordon can't pull the express. 
Ad blocker interference detected!
Wikia is a free-to-use site that makes money from advertising. We have a modified experience for viewers using ad blockers

Wikia is not accessible if you've made further modifications. Remove the custom ad blocker rule(s) and the page will load as expected.