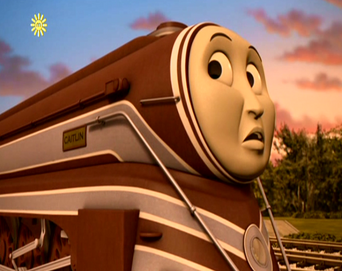 Calm Down Caitlin is a the 5th episode of the seventeenth season. 
Plot
Due to a locked tender brake and a broken bridge, American Streamliner, Caitlin has to stay overnight on Sodor. However, the other engines and the residents of Sodor (including some zoo animals) have to find out the hard way about what it's like having an streamliner running the rails at night. 
Ad blocker interference detected!
Wikia is a free-to-use site that makes money from advertising. We have a modified experience for viewers using ad blockers

Wikia is not accessible if you've made further modifications. Remove the custom ad blocker rule(s) and the page will load as expected.