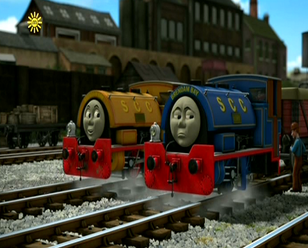 Bill or Ben?
is the fifteenth episode of the seventeenth season.
Plot
Bill and Ben love to impersonate each other and are quite good at it too! One day, they challenger Connor to a race and out of fear that they might get beaten, they use their impersonation technique to play a trick on Connor. But the fun is spoiled when Sir Topham Hatt, who saw it all, has had enough and gets one of them repainted blue. 
Ad blocker interference detected!
Wikia is a free-to-use site that makes money from advertising. We have a modified experience for viewers using ad blockers

Wikia is not accessible if you've made further modifications. Remove the custom ad blocker rule(s) and the page will load as expected.